Start your search by vehicle type: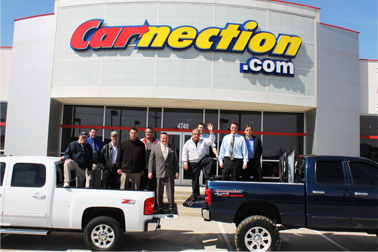 Who is Behlmann's Carnection?
Behlmann's Carnection is the Premiere Used Car Dealer in St. Peters. has been developed with a vision from Paul Behlmann & son Roger Behlmann. Paul is the youngest of 12 children in a family of self-described "dirt farmers" in Florissant who had set out with his two relatives and started selling used tires in North St. Louis County. Over the years, the business grew into one of the largest tire and lawnmower companies in the Midwest. In 1970's General Motors asked Paul & partners if they wanted to take over the local GM dealership. The Tire Center had become the first of the family's auto dealerships.
With years of success, in year 2000 the Behlmann's started another dealership in the St. Peters area, which is the largest pre-owned center in the Midwest. In 2009, the family had divided the dealerships and a new full service facility has been built now known as "Behlmann's Carnection." Since then we stand here today with a great trained staff, the best diverse pre-owned inventory in the area and offer one stop shopping in a friendly, no pressure atmosphere. No funny business here, just years of dedication and hard work to produce the nicest used car dealership in St. Charles, Mo. So if your looking at used cars in St. Charles, Mo. give us a look! And don't forget us if your looking at used cars in O'Fallon, Mo. In return we have a core of loyal clients and would love the opportunity to add you to our family. So don't pay the MAX because were your Carnections!